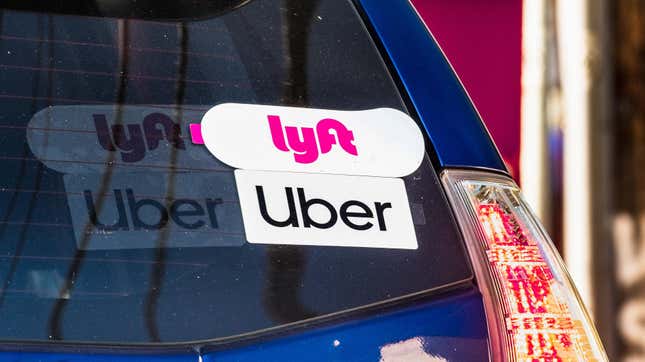 The days of sky-high carshare rates could be behind us—at least if Lyft is your app of choice. The Uber competitor announced during a quarterly earnings call yesterday that phasing out surge pricing is on its list of priorities moving forward.
Should You Flip Out for This Samsung Phone? | Gizmodo Review
TechCrunch reports that Lyft CEO David Risher said on the call what we've all been thinking: Surge pricing is stupid and kills demand for rides. Risher reportedly claimed that while surge pricing—which the company refers to as "primetime pricing"—may get more drivers on the road, it inevitably reduces calls for rides as customers are greeted with lofty rates during surge hours. Risher believes the mechanism is truly pissing off the customer base that's keeping the company alive, and said during the call that the Lyft is "trying to really get rid of it" as driver supply is going strong.
"[Primetime pricing] is a particularly bad form because riders hate it with a fiery passion. And so we're really trying to get ride of it" Risher said on the call. "We're actually taking less money, but it's good for our riders and it's good for our overall market itself."
Lyft spokesperson Eric Smith clarified Risher's comments on the earnings call in an email to Gizmodo. Smith explained that Lyft is not directly phasing out primetime pricing, which the company believes is due to a lack of drivers. Instead, the company is opting to grow its driver base, which will reduce primetime pricing as a side effect.
Overall, Lyft's ridership data is a little sweet and sour. The company's strategy to secure more riders appears to be working, with an 8.2% increase in active ridership year-over-year. However, Lyft faced a 4.8% decrease in rider revenue in that same time, from $49.89 per rider in Q2 2022 to $47.51 per rider in Q2 2023. That said, Lyft still took home a massive $1.021 billion in revenue last quarter, with newly appointed CFO Erin Brewer claiming a 3% revenue growth year-over-year.
Risher's announcement of axing surge pricing comes after Uber CEO Dara Khosrowshahi recently expressed surprise at heightened rates. In an interview with Wired, Khosrowshahi tried to explain away high rates after the reporter confronted him with the reality of a three mile ride that cost $50. Khosrowshahi initially hand-waved the price away under the guise of surge pricing before pivoting to blaming it all on inflation. It would appear, however, that Uber's soaring prices are not based on surge pricing and they're definitely not based on inflation—Forbes reports they're actually rising four times faster than the rate of inflation in some cases—but that doesn't seem to matter to the Lyft competitor, as Uber finally reported an operating profit for the first time ever.
Update August 9, 4:10 p.m. EST: This article was updated to include comment from Lyft spokesperson Eric Smith.